Andrea Datz Integrative Horsemanship
and
Martha Foster Grace Hill Ventures
Presents:
Tango with horses
Addressing the Dance of Healing and Connection through Posture, Balance, and Movement
October 26, 27, 28 2018
Speigel Farm, Campobello, South Carolina
Registration opens July 15!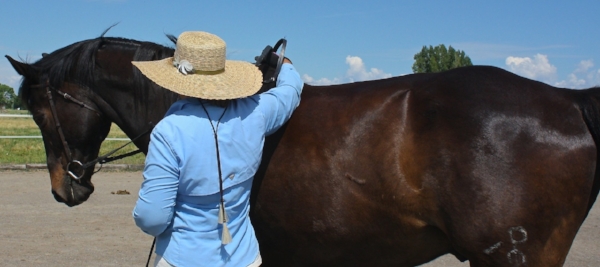 'Andrea is a master at helping others learn to communicate more fluidly with horses, whether in the saddle, on the ground, doing liberty work, body work -- you name it. The insights she has to offer are truly transformative for the relationship between horses and the humans who love them.'
Please see below for a description of each day of the clinic. Participants can attend one day or both days. If you would like to bring your horse (or borrow one from me), please sign-up as a full participant (limited to 6 slots). Participating auditors (a limited to 10 slots) will be fully involved in all the morning activities, including hands on unmounted activities with the herd here), will watch and be able to ask questions, and join in discussion during the afternoon sessions.
We are keeping this clinic small in order to insure a personalized experience.
These workshops fill quickly so please don't hesitate to sign up.
Full participant fee is $600 for all three days.
Participating auditor fee is $300 for all three days.
Workshop Details:
Argentine Tango is a social dance. Social etiquette applies. Leaders invite a potential partner to dance using subtle, non-verbal signals. Their intended partner responds in equally subtle ways. Should she accept his invitation he has committed to dancing three songs in a row, a Tanda, with this partner. The first dance allows these two strangers to find a way to connect, to get to know each other a little bit. The second song they begin to get a sense of each other and what's possible. By the third dance they know each other well enough to get creative.
This workshop is inspired by the Tanda.
Each morning begins with a brief discussion, video clip and demonstration followed by a group activity that allows participants and auditors to experience what we'll be working on with the horses with each other.
The rest of the day is one on one sessions with participants and their horses. The horse will lead the way in guiding us to what should be focused on during the lesson. We may end up doing body work, ground work, liberty work, riding or a combination of things.
Day 1: Friday October 26: Our first dance: Overall theme: Posture
We'll get to know each other and the horses. Discover what it takes to partner successfully and dance well together. In the morning we'll engage in self-exploration to discover the things that might be interfering with our ability to be a good dance partner for our horses. In the afternoon we'll learn to assess our horses to determine what they might be telling us, uncovering any physical or emotional challenges that make it difficult for them to follow. We'll have a special focus on posture in ourselves and our horses.
Day 2: Saturday October 27: Our second dance: Overall theme: Balance
We'll focus on developing tools to resolve and work with the things we discovered in our first dance. The morning spent discussing the origins of movement and how we communicate effectively with body language. The afternoon spent with the horses learning the basics of creating a body language-based dialogue. The horses will guide us so we know if this second dance is best done on the ground or under saddle. We may end up doing a dance that is body work oriented, at liberty, in hand, under saddle, or on a line. Tango is an improvisational dance so we'll be learning how we adapt to what our horse presents us with each day. Special focus on the importance of balance control in both horse and human.
Day 3: Sunday October 28: Our third dance: Overall theme: Movement
By now we should be able to lay a foundation for how we build a mutually agreed upon, creative partnership in whatever we choose to do with our horses. In the morning we'll focus on specific skills related to leading effectively, with special emphasis on the importance of rhythm and dynamic movement. What makes us magnetic and attractive to our horses so they follow our lead seamlessly, and without the need for force or coercion or bribery. In the afternoon we'll focus on how the horses become our best guide to helping us improve our non-verbal communication, or dance, skills. Using the horse's feedback to guide us in how to dance!
'Tango dancers have the opportunity to become, in a sense, intuitive experts in body chemistry and body language. The tango connection, or embrace, is a way to develop tremendous sensitivity to the movement and language of the body as we synchronize with each partner. If our objective is the most comfortable and expressive dance possible, it's in our best interest to pay close attention to the subtle gestures of our partner's body, how he or she takes a particular step or simply the position of his or her shoulders. Noticing these details, often unconsciously, helps us to establish a better sensual connection, or better chemistry with that person. This highly tuned sensitivity and ability to adapt and synchronize is a defining characteristic of the very greatest tango dancers in the world. If, in addition to becoming sensitive, we deliberately apply positive intentions like enthusiasm, generosity, and sweetness to our dances with others, the tango becomes exceptional, even transformational.'
Sharna Fabiano